Welcome to The Mix Room
Owned and operated by Jamie Mahaffey  and Marty Taylor, The Mix Room is a full service, award winning, audio-post completion service conveniently located in downtown Vancouver, British Columbia, Canada.
Jamie Mahaffey & Marty Taylor
We have been partners since 2005 and have combined experience in excess of 846 years. We've been at it awhile … Both of us hail from the rock n' roll world, but eventually realized that we needed to make a living, so we transitioned that path, and those mixing skills, into the television and film realm. Recent years have seen us focus on documentary and lifestyle/reality TV. We've got it down to a creative science and are having fun along the way. It's TV after all – ya gotta have fun!
Our Approach
Always professional. We work with our clients to assess a production's sound requirements and help scale the process to meet their deliverables; successfully blending creativity with an eye (and ear!) to the realities of their budgets and timelines. We strive for the utmost in communication and clarity from first quote to final mix.
We also have several tricks in our audio bag to help get things done right the first time, and have a reliable, solid group of professionals who work with us to meet all of our clients' audio-post needs.
Our Studios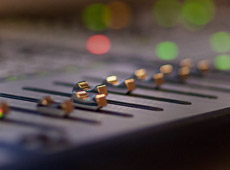 The Mix Room consists of two main 5.1 mix studios and two editorial/premix suites. ADR and voiceover are easily handled in our comfortable voice room. All rooms monitor Dolby Pro Logic and adhere to the Dial Norm protocol. From dialogue edit to final broadcast deliverable, The Mix Room can guide your project through to a trouble free QC.